Our company will take part in the Mir Stekla 2017 Fair in Moscow on June 5 - June 8, 2017.
The trade fair is designed for glass products, production, processing and finishing of glass.
Mir Stekla is Russia's largest international trade show of glass products, manufacturing, processing and finishing technology
Its biggest fair-trade in Russia, SNS a eastern Europe.
You will find us at 21E20 , Pavilion 2, Hall 1, of Moscow Exhibition Center.
At our stand, which we traditionally share with Sklostroj Turnov CZ, s.r.o.,
We look forward to your visit
March 20, 2017 - Thanks for visiting the exhibition Modern Bakery 2017
Thank you to everyone who visited our stand at the fair Modern Bakery Moscow,
We look forward to see you again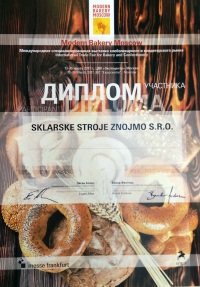 27.2.2017 - Modern Bakery Moscow
Our company will join fairtrade Modern Bakery Moscow at 13.3 - 16.3.2017.
Modern Bakery Moscow is the International Trade Fair for Bakery and Confectionery
since 1995.
You will find us in stand Forum, FE50
We are tradionally sharing stand with company Liberecké strojírny s.r.o.
We are looking forward to meet you there.